New Brunswick – The Big Winner in Breakthru
March 23, 2017
Fredericton, NB: The New Brunswick Innovation Foundation (NBIF) is pleased to announce the 2017 winners of Breakthru, their biennial start-up competition.
The national grand prize winner is Newpy, a social app designed to make product photography more engaging for users and more valuable for brands. Newpy is the brainchild of Erin O'Halloran, who will graduate from UPEI this Spring, and set up her business, working alongside her sister, in Saint John. Newpy takes home $301,250 in cash investments and professional services.
"We are absolutely thrilled," says O'Halloran. "This changes everything for us, and I can't wait to get started."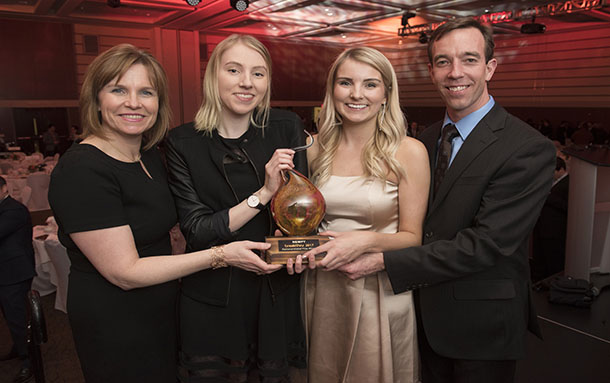 (Cathy Simpson, NBIF Chair, Alana O'Halloran, Erin O'Halloran, CEO of Newpy, & Calvin Milbury, NBIF CEO)
The provincial grand prize winner is Pfera, a digital milk strip analysis tool designed to improve birth date predictions for horses. Pfera's technology is based on the research and commercialization efforts of Lisa Pfister, a student in UNB's Master of Technology Management & Entrepreneurship program. Pfera will take home $374,250 in cash investments and professional services.
"I am really humbled that so many people see the value in what I'm doing," says Pfister. "We are getting requests from around the world, and these investments will help us meet that demand. We have a lot of work to do!"
The two runners up in the provincial category are SomaDetect, a milk analysis system that uses light scattering technology to evaluate the quality of the milk and the health of the cow producing it; and WEnTech Solutions, a software system that allows project engineers to evaluate and recommend effective scenarios for waste-to-energy projects. These two companies will take home approximately $180,000 in cash investments and professional services.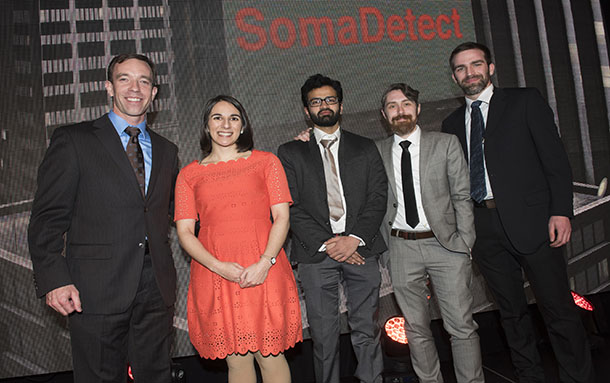 (Calvin Milbury, NBIF CEO, Bethany Deshpande, CEO SomaDetect, Bharath Sudarsan, Nicholas Clermont, Bryan Wattie)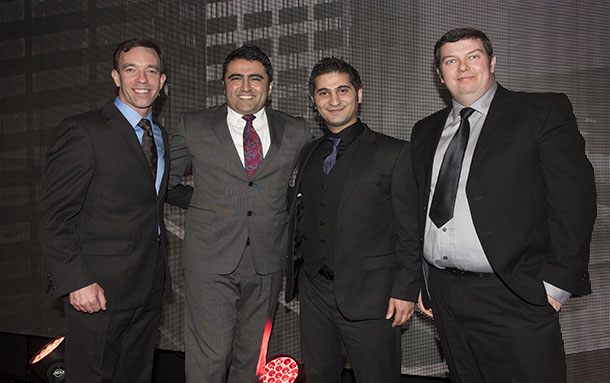 (Calvin Milbury, NBIF CEO, Amir Akbari, CEO WEnTech Solutions, Farough Motasemi, Dr. Kenneth Kent)
The winner of the Viewer's Choice award, sponsored by CBC New Brunswick and Air Canada, is Quber. They will receive a front-of-the-line GOLDEN ticket to the April 1st audition for Dragon's Den at the CBC studios in Toronto.
The winners were announced at a gala dinner at the Fredericton Convention Centre Thursday March 23. The finalists pitched their businesses to an audience of more than 550.
"The gala is the culmination of many months of effort for our finalists," says Calvin Milbury, President and CEO of the NBIF. "We had a great group of entrepreneurs this year, and I can't say enough about the potential of each of their business ventures. New Brunswick is the real winner tonight."
Each successful company will set up their businesses in New Brunswick, using their winnings to ramp up growth, to hire, and to finalize their product offerings.
-30-
About Breakthru:
Breakthru encourages the creation and development of entrepreneurial, innovative business ventures in New Brunswick. Hosted by the New Brunswick Innovation Foundation (NBIF), Cox & Palmer and Deloitte, this nationwide start-up competition provides participants with a unique opportunity to access start-up capital, mentoring, and support. Participants compete for more than $1 million in prizes that will help launch their business.
For more information:
Katie Bowden
Duke Creative Collective
katie@thisisduke.com
(506)654-2446