Building Academia and Industry Collaborations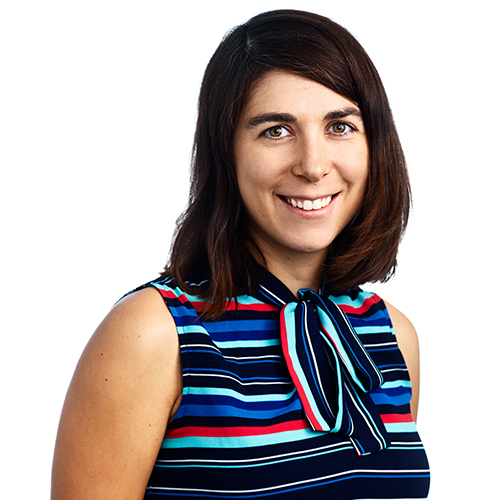 Dr. Laura Richard
Director of Research
Significant research happens in New Brunswick's universities, colleges and institutions, but, like many other places around the world that research doesn't always become effectively commercialized. The challenge in driving this commercialization is often in ensuring that businesspeople and academic researchers are speaking the same project language when discussing a problem or opportunity.
At NBIF, we see a big part of our job as bridging this divide and connecting these two groups. We are competent in getting both parties on the same page, speaking the same language because we speak both the language of research and that of entrepreneurship. We can connect the players, find funding and help them work together to commercialize a solution to a problem people face. The solutions can be turned into strong businesses or licensed to other companies. That innovation helps drive company creation and growth, and subsequent wealth creation right here in New Brunswick.
Other key players in connecting industry and academia are the innovation officers and knowledge transfer staff in the research offices at the province's universities and organizations like Springboard Atlantic that play an essential role in connecting academic researchers and entrepreneurs. (Jeff White, NBIF's CEO, serves on the Board of Directors at Springboard). We are proud to work with these industry engagement professionals to help researchers build meaningful collaborations.
We recently spoke with Dr. Valerie Bonnardel-Vacque. She heads the Bureau de Soutien à l'Innovation at the Université de Moncton, and is the university's lead in supporting faculty in the commercialization of academic research. Valerie is an expert on this topic, having worked at organizations like MITACS, in a similar role at Grenoble Institute of Technology in France, and as an entrepreneur. She brings valuable experience and insights into her work at U de M.
What kinds of collaboration exist between an academic researcher and a business person?
Industry-Academia collaboration at the Université de Moncton and across New Brunswick has many different facets, from talent discovery to life-long partnerships, including intellectual property generation, breakthrough innovation and social and economic impact. Industry-academia collaboration means bringing researchers to the table with businesspeople and working together toward ambitious goals.
In academia, we have two primary missions:
Training the next generation of highly qualified individuals; and
Using research to uncover new knowledge that will benefit people and companies
These align nicely with business and create opportunities for collaboration and partnerships with academic researchers in both fundamental research and applied research. By working together, we can develop innovative solutions to problems and chart the path to commercialize and monetize these solutions.
In your experience, how are these kinds of collaborations brought to life? Who can help make them a reality?
In our networking and communications world, collaborations often begin through an informal contact like a phone call or an email. In my experience, whoever makes the first contact does not matter, but the next step is crucial: finding a common language. Each party needs to express their requirements in a way that the other party can understand. Every university has industry liaison officers that are instrumental in facilitating this step. They make connections, translate expectations into objectives and identify shared values. It is always important to spend time in the project definition process at the outset, so everyone sees what success looks like.
What steps should be taken by either an academic researcher or an industry party looking to create a research partnership?
The first step is connecting with the university research office. They are your best ally in the process, allowing researchers and industry partners to focus on their strengths and needs. Then have an open and honest conversation about the project, taking some time to discuss contracts or agreements, particularly as it relates to Intellectual Property. It's best to tackle the hard stuff first.
They next address the funding, which should be adapted to the project rather than the project adapted to the funding. I recommend thinking big but starting small and building on successive collaboration opportunities. Look beyond a one-off research project and focus on establishing the foundation for more long-term collaboration.
Effective communication is vital. Research is not always a linear process and communicating where a project is heading is necessary to keep everyone on the same page.
Why are these research collaborations so crucial to New Brunswick?
The time when many companies had in-house R&D is long gone. They have instead moved to outsourcing research or simply acquiring start-ups. Industry-academia research partnerships are a crucial way to provide industry with knowledge, skills and ideas that they need now and in the future. New Brunswick needs to attract and retain talent, and demonstrating the advancements made by industry and academia collaborations is an excellent way to achieve that. That innovation will only lead to good things.
NBIF works hard every day to support researchers in New Brunswick. If you are a researcher or want to work with one, contact us to learn more about our services.