Research is a critical part of innovation and growth. We invest in researchers whose projects have a high potential for commercialization and/or economic impact on New Brunswick. We're proud to back both early-stage research and more established projects, carried out by researchers based at publicly funded New Brunswick institutions.
Our funding is different from typical research grants. Whilst our grants are non-repayable, the funding we provide attaches certain rights to the intellectual property developed so we can help commercialize it. As a non-profit organization, any money we make from research commercialization is invested in additional research projects.
By investing in our province's researchers and helping to bring their work to commercialization, we do our part to help our province, its economy, and its residents.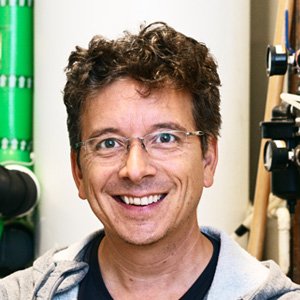 Prof. Simon Lamarre
Université de Moncton
Biologist Prof. Lamarre thinks he knows how to add millions of dollars of value to the New Brunswick snow crab fishery, and it doesn't involve fishing more crabs. When stressed, snow crabs undergo autotomy, a defense mechanism in which they amputate one or more of their own legs. Crabs that have undergone autotomy frequently die before reaching market or must be processed into food products that command a much lower price per pound than live, whole crabs. The result is that the snow crab catch is valued far below its potential.
Read More
Prof. Lamarre used a $30,000 award from us to modernize the refrigeration system in the saltwater laboratory at the Université de Moncton. The controlled experiments he plans will allow him to observe and quantify biomarkers associated with stress in snow crabs. Through a partnership with the Valorēs research institute in Shippagan, he hopes his findings will lead to improved fishing practices and a greater return for snow crab fishermen.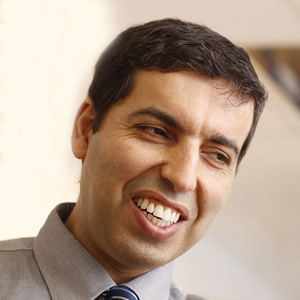 Prof. Yassine Bouslimani
Université de Moncton
Research Innovation Fund
In March 2019, NBIF awarded Prof. Bouslimani $250,000 to establish an applied research laboratory for industrial robotics at Université de Moncton. In addition to the robotics equipment and related infrastructure, a key deliverable of the project is the development and deployment at UdeM of a hands-on curriculum and certification program in partnership with leading robotic equipment manufacturers KUKA (headquartered in Germany) and FANUC (headquartered in Japan). The project will also train engineering students and industrial workers alike in the use of robotics and equip them with the skills and knowledge to design and implement automated robotic solutions in real-world manufacturing settings.
Read More
This laboratory represents an outstanding opportunity to establish a cutting-edge applied research and training center in New Brunswick. With the intention to be uniquely positioned as Canada's only bilingual training center for industrial robotics and the only KUKA training center east of Mississauga, it could have an important and lasting impact on the province's economy by helping traditional industries modernize through the adoption of robotic solutions so they remain viable and competitive in global markets.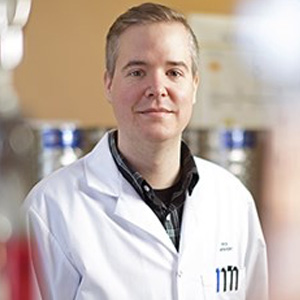 Dr. Mike Doucette
Collège communautaire du Nouveau-Brunswick, Grand Falls
Research Investment Fund
Maple syrup has been a booming business in New Brunswick for centuries. But most of New Brunswick's small maple syrup producers sell their product wholesale to Quebec. Despite the lower price they receive they do this in order to leverage the certified testing services there, as these tests are required for export. Unfortunately, it is then labeled a product of Quebec and New Brunswick producers lose market exposure, alongside a loss in potential revenue.
Read More
Fortunately, the researchers at the CCNB Grand Falls facility in bioprocessing have come up with a solution; building New Brunswick's first certified maple syrup testing lab. NBIF awarded Dr. Mike Doucette, an analytical chemistry expert, $33,000 from our Research Investment Fund to make this lab a reality. This investment was made alongside ACOA and the New Brunswick Maple Syrup Association. Now that's a sweet deal.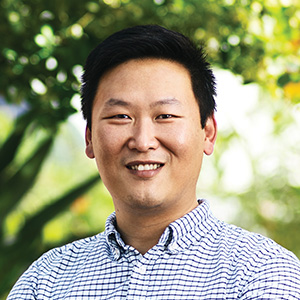 Prof. Yang Qu
UNB Cannabis Health Research Chair
Research Chair
Cannabis is considered a strategic priority of the province and the Cannabis Health Research Chair represents a tactical opportunity for the University of New Brunswick at a critical time considering the growing medical and industrial interest and the potential economic and social impacts.
Read More
The objectives of the chair position include: (1) to extend UNB's commitment to research and innovation in the field of natural products and biomedical, health, and life sciences; (2) to support the rapidly developing commercial cannabis industry by providing research results that support sustainable long term economic growth; and (3) to attract, develop, and retain students and future researchers in order to have sufficient trained experts in the province to support this industry's growth.
We awarded UNB $80,000 as a startup grant to help recruit Prof. Qu to the province in September 2018. As cannabis research evolves, Prof. Qu will play a key role in developing UNB's expertise in this emerging field.
Research Assistantship Initiative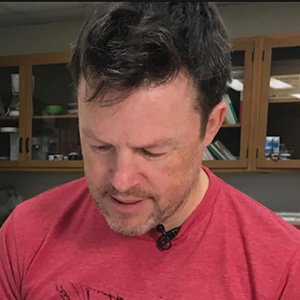 Prof. Gaetan Moreau
Université de Moncton
Research Assistantships Initiative
We awarded Prof. Moreau and four students at Université de Moncton a $36,000 grant to study the pests that attack commercial cannabis crops in New Brunswick. Cannabis is emerging as a crop of increasing economic importance in the province, and as these insects damage or kill the plants it reduces production and potential revenue. Currently, little formal information is available about these pests.
Read More
At the request of industrial cannabis producers, Prof. Moreau and his students will develop a comprehensive description of cannabis crop pests, to document the damage they cause and determine contributing factors. They plan to share the results to a broad audience via a website so all growers can learn about their findings.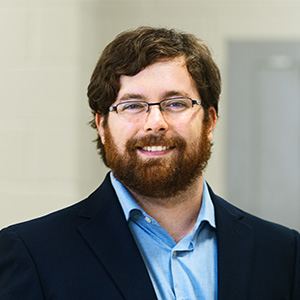 Dr. David Themens
University of New Brunswick
Graduate Scholarship
We initially awarded Dr. Themens a three-year graduate scholarship in 2014, and his resulting work was just completed in the last year. Dr. Themens, a Postdoctoral Research Fellow in the Physics Department at the University of New Brunswick has received international recognition for his work modeling the disturbances and interferences that take place in the ionosphere, a high-altitude region of the Earth's atmosphere.
Read More
The ionosphere facilitates long-range communications, but disturbances in the ionosphere cause significant disruptions to high frequency radio transmissions, global positioning systems (GPS), and navigation technologies. Dr. Themens developed a new model of the ionosphere that will help Canada better monitor activity in the Arctic and increase the reliability of communications in northern Canada. Improved communications and monitoring capabilities in the Arctic have become increasingly important as the region warms and experiences greater commercial and defense activity.
NB Innovation Research Chair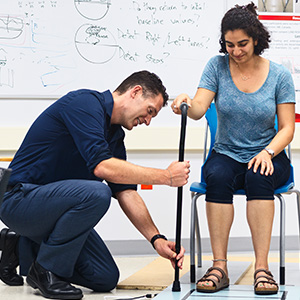 Prof. Erik Scheme
University of New Brunswick
Research Chair
Over the course of his term as NB Industrial Research Chair in Medical Devices and Technology at UNB, Prof. Scheme's research in machine learning has expanded to cover a wide range of disciplines to meet industry demands. Rehabilitation products, remote monitoring, aging, diagnostics, and predictive analytics are just a few of the areas he's touched on. Since the start of his Chair four and a half years ago, Prof. Scheme has made enormous strides: the Chair funding allowed him to build a research group of 25 highly skilled researchers from around the world, secure a faculty position at the Department of Electrical and Computer Engineering, leverage the NBIF money to attract substantial new funds, and create a significant network of industry partners. Critical to all of this has been the guaranteed, non-project-oriented support of $200,000/year from NBIF.
Read More
Prof. Scheme's results from this year alone speak to the success of the Chair program: in the last fiscal, he has attracted $1.2 million in other research funding, disseminated knowledge to a range of audiences via 27 papers and 18 events, trained 37 students and built 10 new industry partnerships. In addition, his research has led to two new product developments with strong commercialization potential.
Prof. Scheme's five-year Chair term will end in July 2020, but the future looks bright for this researcher and his group thanks to the critical early support we provided and the success this funding catalysed. We anticipate a continuing close collaboration to support his group's applied research projects and look forward to seeing the innovations they will generate.