Paving the road to the diagnostic future — and an R3 Award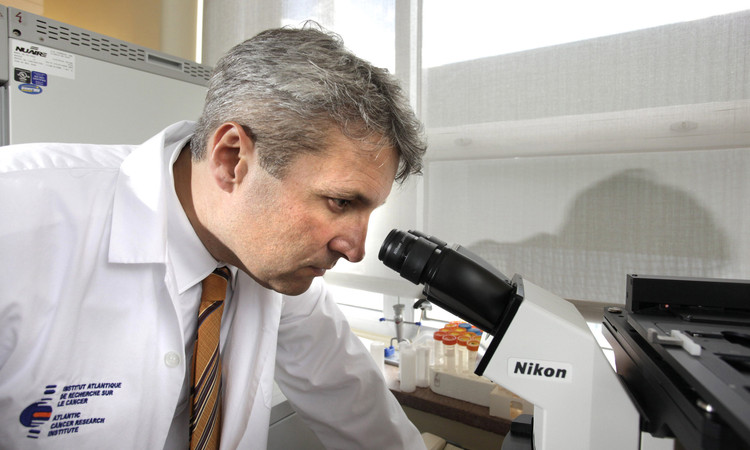 From humble beginnings to breakthroughs
By Quentin Casey for the Telegraph Journal | link to original article.
In 1996, Rodney Ouellette concluded his studies at Université Laval in Quebec, emerging with both a medical degree and a PhD in molecular and cellular biology. Ouellette and his wife, Janice Cormier, also a doctor, yearned to return to New Brunswick, their home province.
"I had been in Laval for almost nine years so I was almost more Quebecois than New Brunswicker by that time," Ouellette recalls with a laugh. "We felt the calling to come back."
Cormier, a general practitioner in oncology, landed a job at the Dr. Georges-L.-Dumont hospital in Moncton.
Ouellette, looking to continue some degree of medical research, struggled to find a suitable position in a province with no significant traditional in medical research.
"It was a little bit worrisome," he recalls, "wanting to come back and not seeing an opportunity open up."
After eight months apart, Ouellette joined his wife in Moncton. He did some emergency room work and started doing some side research. The lab consisted of himself, a technician and, eventually, a graduate student.
From that humble start emerged the Atlantic Cancer Research Institute. The 50-person research centre has since raised close to $35 million in research funding and is now pushing a novel cancer detection technology towards commercialization. Ouellette hopes the technology will soon be in doctors' offices and hospitals.
On Thursday, Ouellette will be one of three New Brunswick researchers honoured at the fourth R3 Gala, hosted by the New Brunswick Innovation Foundation. Ouellette (along with UNB's Felipe Chibante and Kevin Englehart) will receive an R3 Innovation Award for Excellence in Applied Research.
Ouellette's cancer research, surprisingly, might not have blossomed if not for CN's exit from Moncton. That's because the Cap-Pelé native drew his initial funding from a purse intended to encourage new business and economic development in the wake of CN's departure from the Hub City.
"Naively, I just put an application in and said it would be great if we started to develop research capabilities," he recalls. Ouellette's proposal was the final project approved for funding, receiving $50,000. "After that things started to fall in place," he says. "We were getting results. We were publishing. And that's what you have to do if you're a researcher – if you want to continue to get funded."
Ouellette admits there was no grand vision for the Atlantic Cancer Research Institute, which was officially formed in 1998. Still, the Institute, which now boasts an annual budget of more than $4 million, has produced some notable research.
The Institute's main work, to this point, involves technology that can quickly detect cancer in a patient, using a sample of urine, blood or saliva.
The screening technology has the potential to help detect all cancers, as well as many other diseases. The Institute is focusing on just a few types of cancer (prostate, breast and pancreatic), while allowing outside researchers and biomedical companies to develop applications for other cancers and diseases.
"The applications are so broad that we can only do so much," Ouellette explains. "The ultimate goal is to develop something that will help patients," he adds, noting that many cancers are detected when it's too late for treatment. "For me, that would be the home run: if we could say this new test for cancer X – be it prostate or pancreatic or another cancer – is using something that was developed in New Brunswick."
Last year, the Institute received funding from the Atlantic Innovation Fund ($6 million over four years) that Ouellette says will take his researchers "in a new direction" – in search of therapies targeting lung and kidney cancers. "Hopefully, we'll find an Achilles heel," he says.
Ouellette's titles at the Institute include both president and scientific director. Half his time is spent dealing with administrative tasks – fundraising, government relations, and promoting the Institute's role in everything from innovation to economic development and job creation. Such responsibilities have forced him to take on the part-time role of "salesman."
"I didn't learn that stuff in medical school," he says with a laugh.
What has been the biggest challenge? Ouellette does not hesitate before answering: "The challenge is always funding," he says. "Without that, everything closes."
Dr. Louis-Marie Simard, the director of medical affairs and research at the Dumont hospital, says Ouellette provided the "scientific expertise" necessary to create a strong health science institute.
"He also brought the determination and energy of a young man dedicated to life sciences," Simard says. "Thanks to him, the Institute has survived and thrived despite many problems and threats over the years."
Looking back on the past 15 years, Ouellette seems genuinely impressed with the Institute's growth, which includes the recent doubling of its space in the old brick Hôtel-Dieu Pavilion in the Dumont hospital complex.
"I would have been a little over-ambitious to think we'd be up to 50 people and have the expertise that we do now," he says. "Back then I was just trying to stay in the game, get good results, and be able to train the next generation of young researchers," he adds.
"There was no master plan. It was the right place at the right time, with people who had a vision to take it to the next level."
This is second in a series of stories on researchers to be honoured by the New Brunswick Innovation Foundation at a gala dinner in Fredericton on Thursday. The series concludes in the Telegraph-Journal Business section Wednesday.