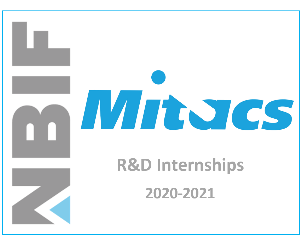 In November 2020, NBIF launched with Mitacs an exciting new joint funding opportunity linked to the Mitacs Accelerate Program. Via this 1-year program, 40 research internships, each valued at $15,000, are available exclusively for NBIF portfolio companies who are either:
A current member of the NBIF venture capital portfolio, or
Have held an NBIF Innovation Voucher between April 1, 2017 and November 1, 2020
In addition to the Mitacs Accelerate funding to support the student interns working with these companies, NBIF is offering small research grants to N.B. researchers to accompany the internships, in order to offset other costs of the projects. These grants, each with a maximum value of $50,000, will be administered under the NBIF Lab-to-Market Fund. These grants are only for N.B. based researchers.
To apply for the Mitacs Accelerate opportunity, faculty, companies and students should start by completing the statement of interest form.
We're thrilled to be able to enhance our support for research and innovation in New Brunswick's private sector, while at the same time creating valuable experiential learning opportunities for students. Interested? Read on for application details and eligibility requirements.
For each internship, Mitacs and NBIF together contribute half of the funds for the intern's salary, and the industrial partner contributes the other half. The student intern then receives a minimum salary of $10,000 per 4 to 6-month internship unit. Note that NBIF's contribution is paid directly to Mitacs, who then disburses money to the academic institution for the intern's salary.
For the research grants, NBIF can contribute up to $50,000 to an N.B. based researcher, as long as the researcher has other funding sources (including the Mitacs grant) to achieve a minimum leverage ratio of 2:1 as per the normal leveraging rules on our research grants. A Lab-to-Market research grant is then disbursed by NBIF directly to the academic institution.
Students
Full-time students at all Canadian colleges and full-time grad        students at all Canadian universities are eligible to apply. The internships can be held by both international students as well as Canadian citizens and those holding permanent residency status. Please note that these Mitacs Accelerate internships are valid for current students only – postdocs are not eligible for this opportunity with NBIF.
Professors
Eligible academic partners on Mitacs Accelerate applications are faculty at Canadian universities who are eligible to hold Tri-Council funds, as well as faculty at Canadian colleges
Companies
Eligible companies are those who are either:
1. Member of the NBIF venture capital company portfolio
2. Have held an NBIF Innovation Voucher between April 1, 2017 and November 1 2020
A list of eligible companies can be found here If in doubt about whether your company is eligible, please fill out the statement of interest form and a Mitacs representative will check your status.
Professors at NB institutions have the exclusive opportunity to apply for a Lab-to-Market research grant linked to their Mitacs Accelerate project, valued at up to $50,000. To apply, fill out this short addendum form and send it to researchservices@nbif.ca. You should apply at the same time as you submit your Mitacs Accelerate application, in order to reduce processing delays. Applications for the Lab-to-Market funding will be evaluated using the following criteria:
Satisfies our 2:1 leverage requirement (the Mitacs award counts as a source of leverage)
Knowledge dissemination plan
Expected outcomes
Relevance to the partner
Ability to execute
Student participation
Check out the eligibility requirements above to ensure that your project idea fits with the fund.
Take two minutes to fill out the statement of interest form.
The program manager, a Mitacs representative, will contact you within a few days to schedule a brief conversation and determine if this program is a good fit for you.
If yes, Mitacs and NBIF will help match companies, interns, and professors to create a project team as needed.
The company and professor discuss the project and align on details.
With help from Mitacs as required, the company and professor fill out a Mitacs Accelerate application form and submit this to Mitacs directly.
If additional research project funding is required, the professor fills out an addendum funding request form, and submits this form plus the Mitacs application to NBIF directly.
Within 6-8 weeks, the project team receives a decision on the NBIF addendum funding and the Mitacs Accelerate internships.
Once approved, the project can begin!